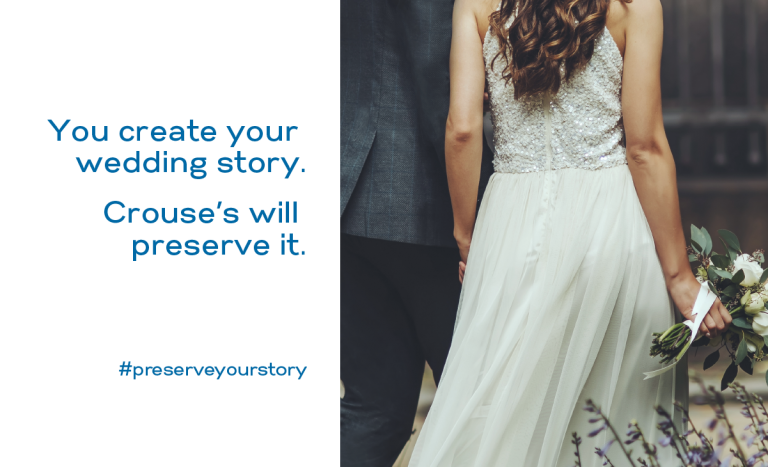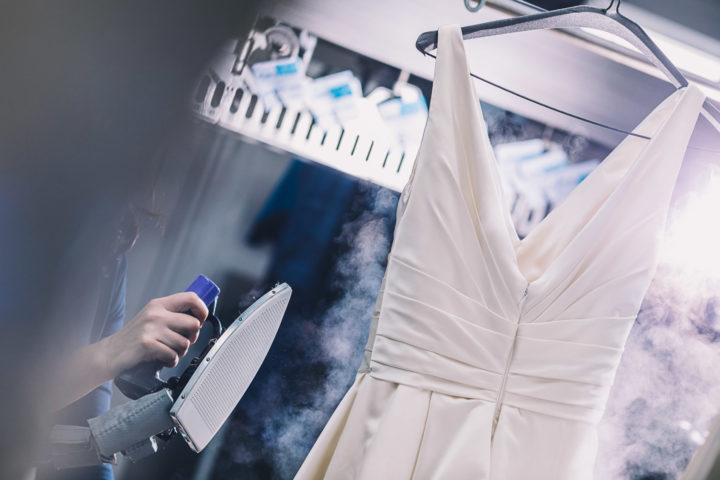 Look your best for all your wedding related events. Crouse's Cleaners will carefully press and steam your wedding gown so it's ready for your ceremony and photos.
At Crouse's Cleaners, we can also ensure the rest of your wedding party and family look great. Suits, mother of the bride and groom dresses, bridesmaid and flower girls dresses can all be cleaned and pressed too.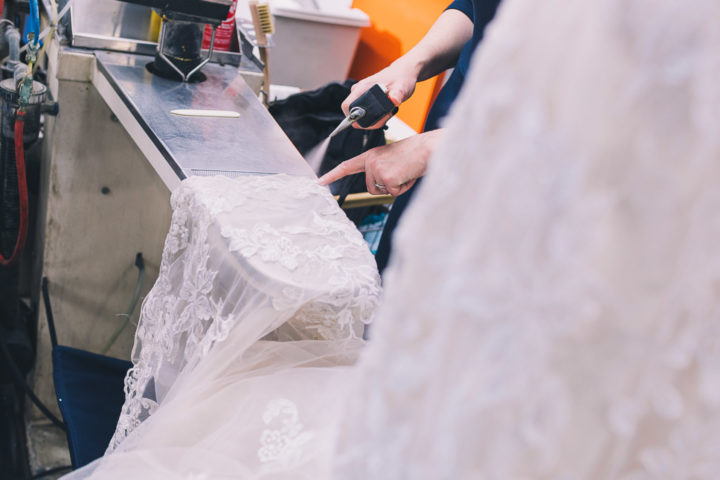 Have your gown cleaned and preserved by the Wedding Gown Specialists at Crouse's Cleaners. All gowns are cleaned on-site and receive individual attention. The following are the steps of cleaning and preservation of a wedding gown.
Inspection: Your gown is inspected for spots, stains and any damage. We look for lace, beading or trim that will require special treatment.
Pre-treatment: Next, we pre-treat any stains by hand. Stains most commonly seen are heavy soil along the hemline, wine, make-up or body oils on the inside of the bodice.
Cleaning: Following pre-treatment, we determine the best cleaning method for your gown. Fabric content and trim typically determine the safest and most effective cleaning method. Following cleaning, we inspect your gown for any remaining stains and make another attempt to remove them.
Pressing: After cleaning, your gown is hung to be pressed and steamed. Our presser pays close attention to detail and takes care to steam the wrinkles from each individual layer.
Inspection and Packaging: Your gown is thoroughly inspected one last time prior to packaging. We will hang it in a garment bag or if you have chosen our MuseumCare™ Preservation system, it will be packaged in one of our museum quality acid-free boxes.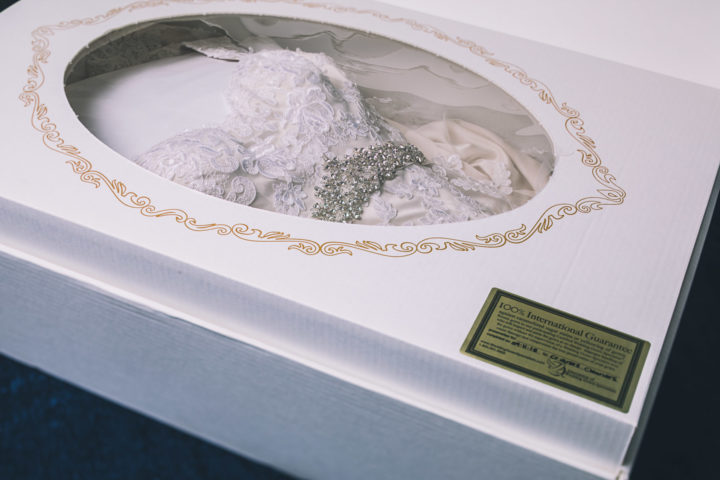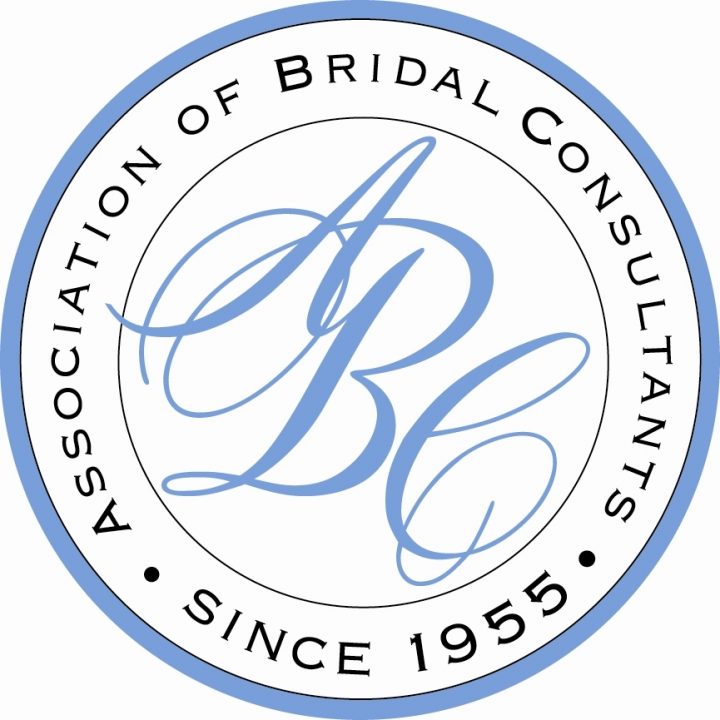 The MuseumCare™ Preservation is the best way to keep your wedding gown in pristine condition for years to come by preventing yellowing and deterioration of the fabric. Your wedding gown is one of the few tangible pieces you get to keep forever.
Your gown is packaged in acid-free tissue and placed in an acid-free, archival quality chest with a viewing pane. The chest is not sealed as the fabric needs to breathe. We provide you with white cotton gloves to wear when handling your gown.
Crouse's Cleaners is an exclusive member of the Association of Wedding Gown Specialists. Our membership with this organization includes an International Guarantee on your gown preservation in over 500 cities around the world.
Visit weddinggownspecialists.com for more details.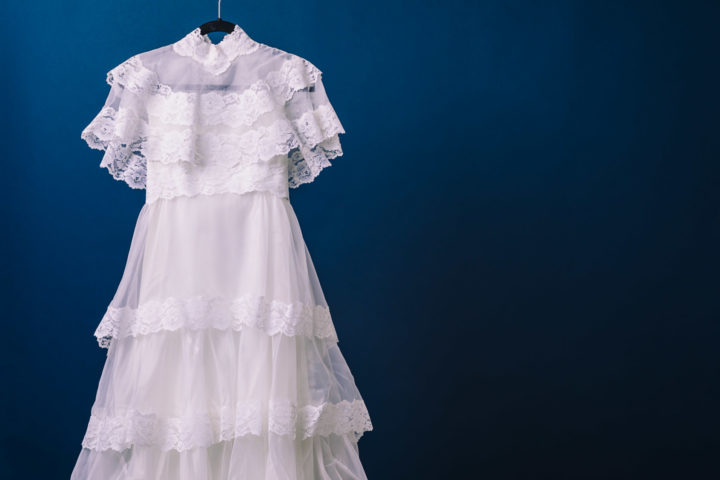 Wearing an heirloom gown is becoming more desired among brides. At Crouse's Cleaners, we are honoured to be trusted with these gowns.
If wearing an heirloom gown is something you are considering be sure to consult with Crouse's Cleaners as far in advance as possible to determine if the gown can be cleaned and restored. This will depend on the condition of the gown after years of storage, the fabric content and any trims like buttons or appliques.
For questions about having your heirloom wedding gown cleaned and restored, feel free to reach out to our Wedding Gown Specialists.
Frequently Asked Questions
Are you wondering about the cost of cleaning and/or preservation of your wedding gown?
It depends on your gown. Each gown is unique, being made of different fabrics and with different embellishments. Contact our Certified Wedding Gown Specialist for an estimate on cleaning, restoring and/or preservation of your gown.
Please note: We are able to give approximate pricing by phone and email, however we will need to see your gown to give an exact quote. Base prices can be found on our prices page.
How long does it take to clean and preserve a wedding gown?
We request two weeks for cleaning and preservation of a wedding gown. If you are in a rush, please contact us by phone and we will be happy to try and accommodate your request.
Please note: Heirloom and Vintage gowns can take up to a month for cleaning and restoration.
How do I store my gown at home?
Remove the preservation box from the plastic bag. Plastic does not allow the gown to breathe and can cause yellowing.
Store your gown in a cool, dark, dry location like an office or spare bedroom closet. Avoid places conducive to moisture or excessive heat. Storing your gown in a basement, garage or room with higher humidity may cause the fabric to become brittle or mildew.
If you have your gown preserved with Crouse's Cleaners, we use the MuseumCare Preservation™ method for storage. This means we use an archival-quality preservation chest and only white acid-free tissue paper. This is the best quality method for minimizing yellowing or deterioration of your gown.
If you've choose to store your gown hanging, it can be put in one of our muslin bags or you can wrap it in a white sheet or unbleached muslin to protect it.
Can I take my gown out of the preservation box?
Yes! We suggest that you check your gown every 2 to 3 years. The oils from your skin can cause damage, so we've provided white cotton gloves to wear while handling the gown.
What does it mean to be a part of the Association of Wedding Gown Specialists?
At Crouse's Cleaners, we are the only dry cleaner in Northern Alberta providing preservation using the MuseumCare Preservation™ method. Our membership with this organization also includes an International Guarantee of your gown preservation in over 500 cities around the world. For more details on the International Guarantee visit www.weddinggownspecialists.com
If your gown is worn again, you can also return it to any participating Wedding Gown Specialist who will inspect and press it at no charge.
Wedding Gowns
Wedding Gown
starting at $214.97
Do you have questions about having your wedding gown cleaned or preserved?
Contact our wedding gown specialist and she will be happy to answer them.
Please note: The cost of cleaning a gown is not dependent on the number of spots & stains.