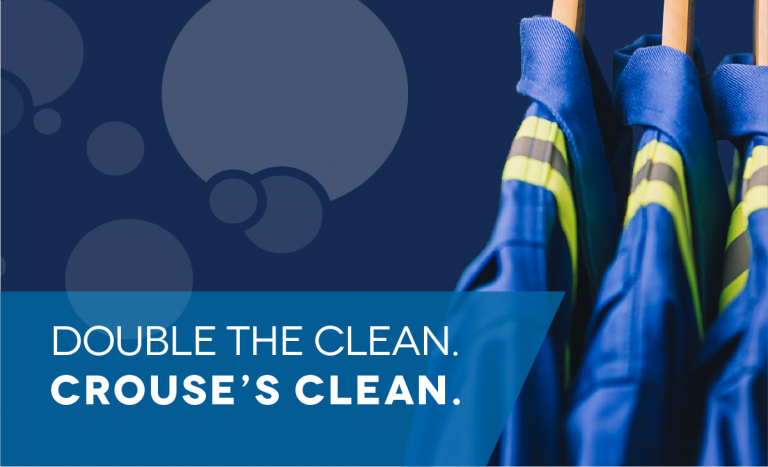 Crouse's Cleaners, Grande Prairie's local coverall cleaner, has been providing convenient and reliable industrial cleaning services to our community since 1979. We specialize in cleaning industrial workwear, including coveralls, insulated coveralls and gloves.
At Crouse's Cleaners, each pair of coveralls is dry cleaned. Dry cleaning is the best way to remove oil and grease stains, which can become a fire hazard if left in the garment. Dry cleaning is also the best way to prevent shrinkage of coveralls.
Same Day Coverall Cleaning Service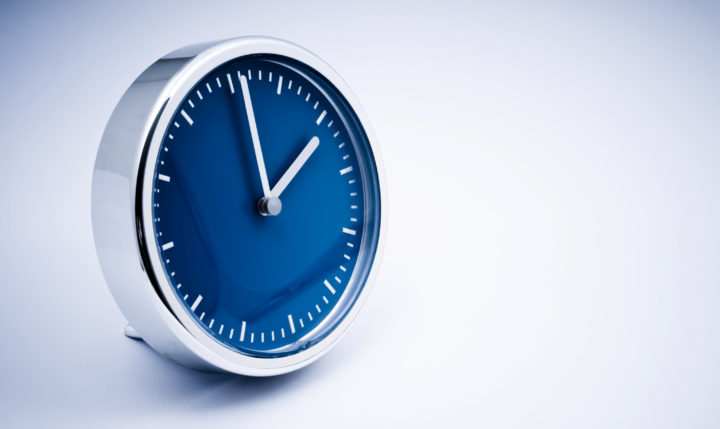 Coverall orders dropped off by 10 am are ready the same day by 4 pm, Monday through Saturday. We know you often have limited time off and need a fast turnaround time!
Coverall Pick-Up & Delivery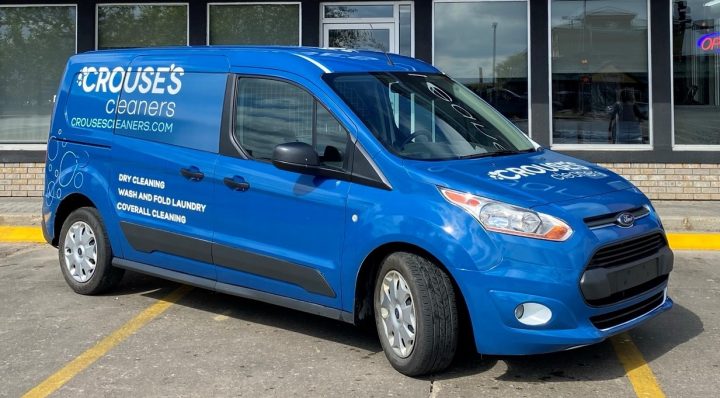 Crouse's Cleaners offers pick-up and delivery within Grande Prairie, to Clairmont, McRae Industrial Park and County Industrial Park (south of Grande Prairie). We will pick-up and deliver once, twice or three times weekly, depending on volume. Please contact Kathleen at kathleen@crousescleaners.com or by calling to 780-532-7610 to inquire about being added to our delivery route.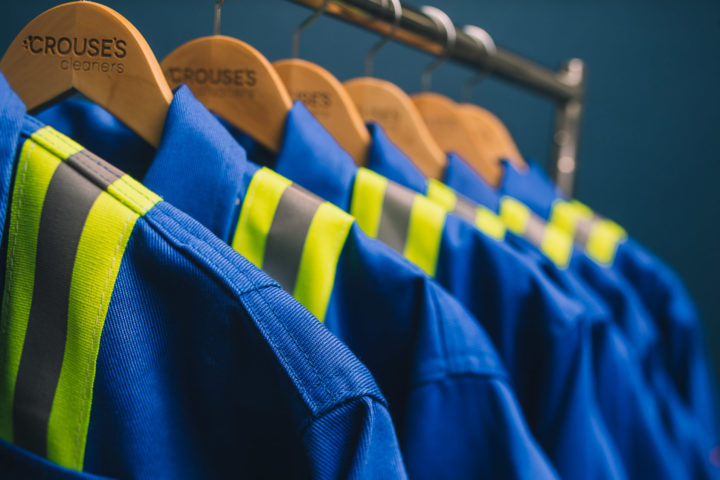 Your safety is important to us. At Crouse's Cleaners, we dry clean every pair of coveralls to ensure all oil and grease stains are removed from the fabric, without compromising the fire resistance of the garment.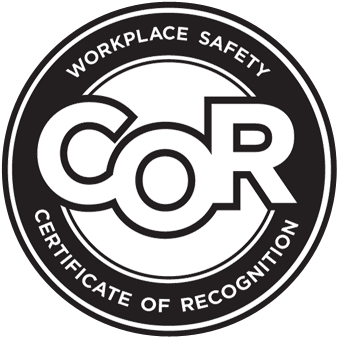 Crouse's Cleaners is committed to providing a safe and healthy workplace. We show this commitment by having our Certification of Recognition (COR). Our team works hard to maintain this nationally recognized standard and a culture of health & safety at our worksite.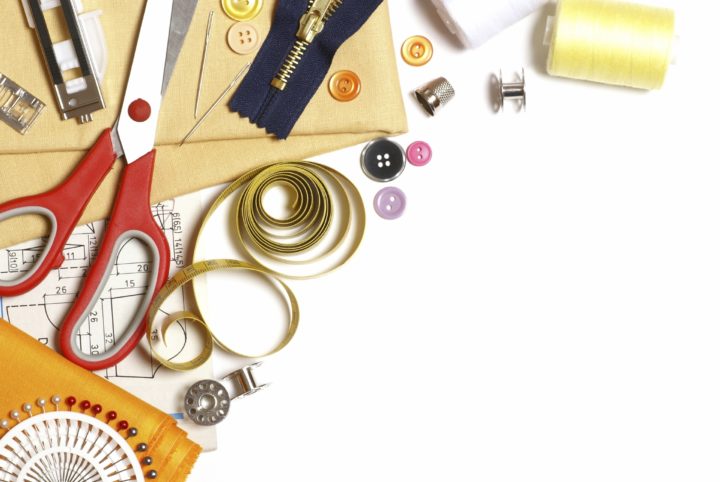 We know your coveralls are working as hard as you are! Repairs on coveralls are available, upon request. All repairs are done with fire retardant thread, zippers and material. Coverall repairs take an additional 2-3 weekdays. When you drop off your order, let us know that you would like repairs done and we will look after the rest.
Coverall Cleaning for Companies & Individuals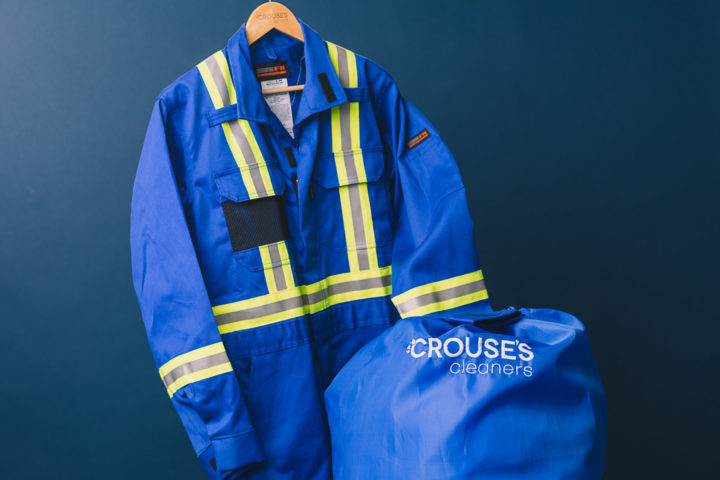 Crouse's Cleaners offers coverall cleaning services to everyone! You can have a personal account set-up where you pay for your order each time. Or, companies can set-up accounts and invoices can be sent on a monthly basis.
For charge account inquiries, please contact Kathleen at kathleen@crousescleaners.com or by calling 780-532-7610.
We do our best to provide transparent billing. See our price list for current pricing. All orders are clearly itemized on invoices. There are no hidden charges, like an enviro fee or fuel surcharges.
Frequently Asked Questions
Do I get my own gloves back?
Yes! We use large laundry pins to pin your gloves together. You may notice a small hole in the cuff of the glove from the pin. We then put a numbered tag on each pin that will match up with your order after they are cleaned. Accidents can happen and the pins may fall apart in cleaning. But 99% of the time, they should be your gloves.
We use an aggressive cycle with high heats and industrial detergents to get the gloves as clean as we can. It is expected that a pair of green kings last about five wears/cycles.
If you feel that you have not received the correct gloves or you have been shorted, please let us know.
Will my coveralls shrink?
All new garments can be expected to shrink up to 2-3%. If you find that more shrinkage is happening this can be the result of coveralls being washed or dried on a heat that is too high. We watch both of these variables very closely to ensure that coveralls don't shrink. Also, coveralls should not shrink more than 2-3% in the dry cleaning process as wash and dry temperatures are tightly controlled.
What if I received the wrong coveralls or am missing coveralls when I picked up my order?
Please let us know! We process a large quantity of coveralls and even though mistakes rarely happen, they can still occur. We use a system where we put a tag on the coverall which will match up with your order. We leave these tags on the coveralls to help us figure out where they could have gone. We have camera's at each point in our process that enable us to go back and track garments.
There is also the possibility that we have split your order for repairs or if you had a large order you may not have received all the packages back. The more information you can provide about your coveralls and your order is helpful in identifying any issues.
How do you clean the coveralls?
We dry clean all coveralls. Dry cleaning is the best method to remove heavy oil and grease stains that are most common in the oilfield industry. We use premium detergents and have created the best cycles to give the highest quality product!
Do you check pockets?
We do check pockets. However, coveralls have a lot of pockets and items can still be missed. Please check your pockets prior to dropping off your coveralls for anything that may be of value. Unfortunately, we cannot guarantee the safe return of items left in pockets.
Can I set-up an account for my company?
Absolutely. You can fill out a credit application and email it to accounting@crousescleaners.com. You can choose to be billed net 30 or you can leave a credit card on account to be charged monthly. Statements and invoices can be emailed or mailed on the first business day of each month for the prior month's charges. If you have questions about setting up an account feel free to contact Kathleen at accounting@crousescleaners.com or 780-532-7610.
Coveralls
Cotton Gloves (Green Kings)
$1.77
Leather or Rubber Gloves
$3.17
Insulated Jacket or Bib
$24.97
Coverall Repairs