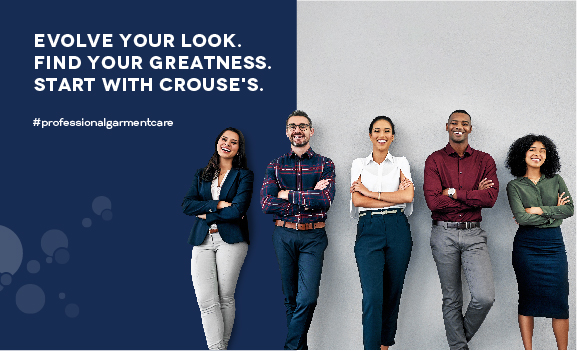 Often people don't know how great they could look
As garment care specialists we know clothes.
We know how to take care of fabrics, how to make them look better.
We know the best ways to remove stains and wrinkles.
It's what we know that helps you look better in your current clothing.
Imagine a quick and easy way to get rid of wrinkles, to banish stains, even take care of missing buttons or hem lines that are unravelling.
Create a more professional image for yourself. Look Better. Feel Better. Find Your Success.
Why trust us, rather than doing it yourself?
Your time is your most valuable resource, do you really want to spend it taking care of your clothes?
We handle the chores that you don't want to do, while helping you look your best.
We've been working with clothes since 1979.  We are experts on fabrics and techniques to keep your wardrobe in optimal condition.
We also have equipment, tools, and stain removal agents that you don't have access to at home.
Focus on developing your family and career and let us help you look great while you do it.
Evolve Your Look – Hire a Garment Care Specialist
We can clean and press everything in your closet.
Yes we dry clean, but we also clean garments that are not dry clean only.
Clients bring us everything from casual wear to formal wear. Like jeans, golf shirts, button up shirts, and more.
Because they know that Crouse's Clean looks and feels better!
Our professional garment care pricing includes:
Stain Removal
Cleaning (dry cleaning, wet cleaning and/or washing)
Pressing
Inspection
Packaging
Pick-up and Delivery
Expertise
Insurance if something goes wrong
Customer Satisfaction Guarantee
Still not sure?  Learn more about how we can help you evolve your look below:
Pressing – It Shouldn't be a Lost Art
Let's say goodbye to wrinkles, together!
Pressed clothes look better.  They make you look more professional.
In today's fast paced world, not as many people take time to iron their clothes.
And maybe no one's pointed it out, but they'll be sure to notice when you let us start pressing your garments.
Can you do this at home?  Sure, if you want to take the time to do so, but we also have:
Best practices based on knowledge of fabrics
Finishing equipment that isn't found at home
Stain Removal – What You Don't Know Can Hurt Your Clothes
There is a scientific process for removing stains.
If you can tell us what the stain is, it's easier for us to remove, however
We understand many stains are mysteries!
It'd be nice if there was a magic stick to remove all stains, but the truth is the type of stain, and the type of fabric determines where to start so your item isn't damaged.
We have access to experience and stain removal agents that you don't have at home.
If you have a stain, don't touch it, let us take care of it for you.
Shirt Cleaning – Wow in Your Button Up Shirts
In today's world, it's easy to toss your button up shirts in the wash at home, but there's a cost: Wrinkles.
Feel better.  Look better.  And gain more confidence as you wow your boss, your customers or even your grandmother!
Did you know we use a specific machine just for shirts that provides a wrinkle free product that is impossible to achieve at home?
Once you've seen and felt the difference, you won't ever want to wear a shirt you've just pulled out of the dryer again!
VIP Bags – Quick and Easy
Don't wait!  Our VIP bags allow you to drop off and go, in our lobby or drive through.
It'll take seconds instead of minutes!
Shirt (Machine Finished)
$6.97
Shirt (Hand Finished)
$11.47
Blouse (Machine Finished)
$6.97
Blouse (Hand Finished)
$11.47
Formal Gown
starting at $46.27
Ski Jacket
starting at $32.97
Wool Winter Jacket
starting at $32.97
Jeans (Heavy/Cowboy Starch)
$18.57
Shirt (Heavy/Cowboy Starch)
$7.97
Try our professional garment care service to evolve your look. More questions? Contact us at info@crousescleaners.com or 780-532-7610.